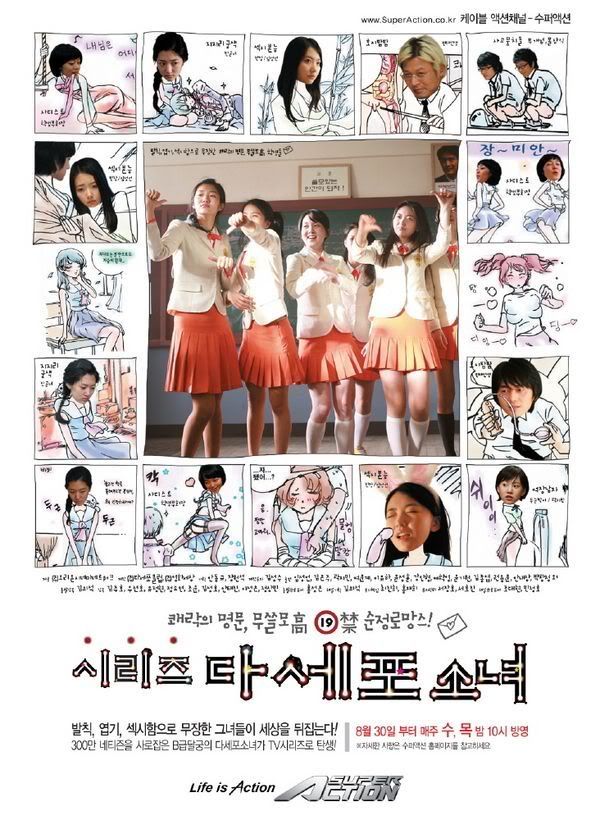 Dasepo Girl Series features a brother with only one eye and his transgender sister, plus a poor girl literally wearing poverty on her back and her escapades into the world of sex with adults – and those are just a few of the many unique characters populating Mosseulmo ("Useless") High. The series was first screened at the Bucheon Film Festival in July 2006, and later the series of 15-minute episodes were broadcast on cable channel Superaction. Produced by Kim Ui Seok of Sword in the Moon, the series stars Kim Eun Joo of What's Up, Fox?, Kwak Ji Min of Samaritan Girl, Yim Sung Un of Yeon Gaesomun, and a host of new faces.
This is the tv version of the Dasepo Naughty Girl movie. Composed of clips varying from 15m to an hour. It's composed by varying directors, amounting to different moods and styles… making it more like a combo of short stories than a loong boring drama!
In the end, the drama as a whole is still one piece explaining the lives of the students of "Useless High School!"
. Very enjoyable, sexy and wacky too!
AKA – Dasepo sonyo
Year – 2006
Genre – Drama/Comedy
Directed – various
Country – South Korea
Audio – Korean
Subtitles - English
Run Time – 600min (Total 4 DVD)
Links – @cine21 (not main site & in korean) , @yesasia
Cast:(partially pictured)